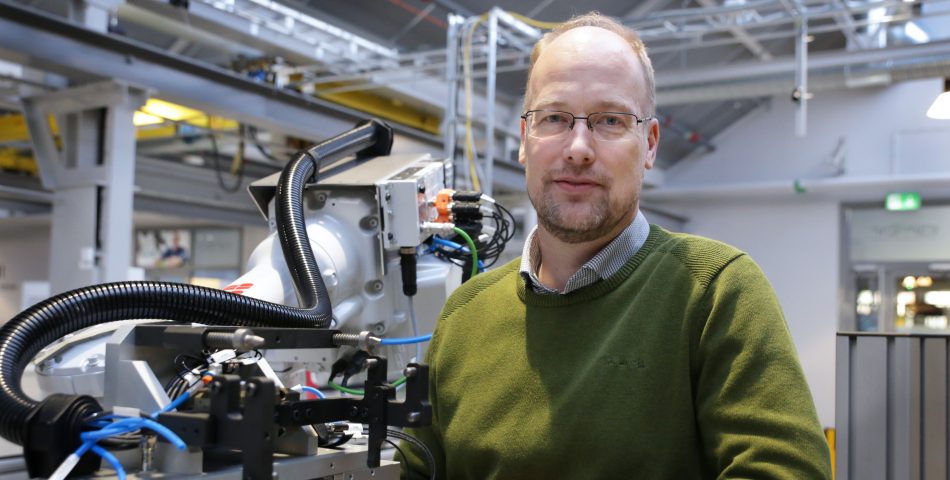 "This is how we get rid of the dangerous aspects of robots"
Industrial robots have always been kept behind lock and key because of the risks to the people who work with them. But in an increasingly changing world, machines have to become more flexible. So how do we create an environment in which people and robots can interact in a safe way? During the past four years, the University of Skövde has been doing research on this very subject. And: we have a result!
The research project entitled SYMBIO-TIC is a EU-funded project that includes company partners, institutes and seats of learning from several places in Europe. The University of Skövde is responsible for the part of the project that deals with the overall aspects of these types of production lines and how to demonstrate the research results. Magnus Holm at the University of Skövde is project leader and responsible for the University's part of the project.
Risks with robots
"There are risks involved when a person works with robots. Among other things, it's all about heavy weights and forces that entail injury risks and we must protect those who work close to robots. But as there is a need for great flexibility in production, we have to get rid of the dangerous aspects of robots and make them more flexible, more general – and more cooperative with people. People learn fast and they are flexible and combining this with the possibilities of robots gives good prerequisites for an efficient production" says Magnus Holm.
Research becomes useful for industry
"What we've been researching for the past four years is how we can create an environment where people and machines can interact without risks. And then: How can that be put to use in industry and society so that it benefits both businesses and businessmen around us? The results of the project have developed into a method to do this in the best possible way – and to show this, we have built a test environment, a so-called demonstrator, at ASSAR Industrial Innovation Arena. In this way, companies can come and study the research in practice and see how the technology could possibly work in their own line of business".
The research itself in the SYMBIO-TIC project is finished but the fruits of the project can now actually be used. Thanks to the results and experiences that the researchers have gained from the project, there is now a method which, by extension, can be adapted and in the future implemented in industry.
Research determines education
"Our experience from this and other research projects is used in our regular university programs. The research actually determines the choice of programs at the University of Skövde and our newly graduated engineers have considerable knowledge about the methods and work procedures that are a result of this research. But we must also offer education to people who already work within industry and give them the opportunity to attain this knowledge. This is where life-long learning is involved in various types of courses, seminars and workshops that the University of Skövde and ASSAR can offer", says Magnus Holm.
International exchange of knowledge
Because SYMBIO-TIC was a EU-funded project, there was close collaboration between researchers, companies and other European companies; this meant we gained knowledge about our various cultures and societies. Magnus Holm and his Swedish colleagues have mulled over ideas with partners from, amongst other countries, Spain, Greece and Germany in order to exchange experiences and to learn from each other in a longer perspective. This exchange is also an important part of EU-funded projects.