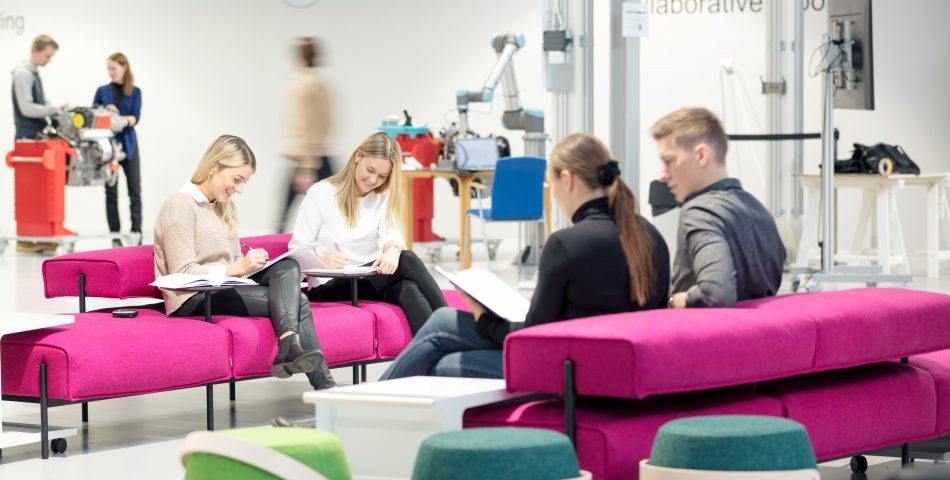 Examenspresentationer från ingenjörsstudenter på masternivå
Den 30 maj presenterar ingenjörsstudenter på masternivå sina examensarbeten i ASSAR. Välkommen att komma och lyssna och inspireras.
När: Måndagen den 30 maj, kl. 10:00 – 17:00
Var: ASSAR Industrial Innovation Arena, Kavelbrovägen 2b, Skövde
På programmet
Tid
Student
Handledare
Examinator
Titel
08:45
Elia Mora Quiles
Dan Högberg with Aitor Iriondo
Peter Thorvald
Optimization of worker well-being and productivity by using time-based ergonomics
evaluation methods in a welding gun use case
09:15
Melanie Waddell
Maurice Lamb
Peter Thorvald
Effectiveness of Virtual Reality Aided Design Collaboration between Engineers,
Ergonomics Specialists and Vehicle Assembly Operators for Defining Vehicle Assembly Sequences
Paus
12:30
Mumthas Basem
Richard Senington
Anna Syberfeldt
Comparative study of different technologies in Informatics with PLC.
13:00
Ruksana Adattil
Peter Thorvald
Dan Högberg
Review on Impact of worker's psychosocial environment under operator 4.0 framework.
13:30
Roshan Padoor Rathiskumar
Richard Senington
Masood Fathi
Quality Inspection of Vessel/Ship using computer vision without human involvement
14:00
Antonio Calderon
Masood Fathi with Ehsan Mahmoodi
Amos Ng
Production optimization using Discrete Event Simulation: Case study of Volvo Penta engine production line
14:30
Fredrik Vuoluterä
Stefan Ericson
Sunith Bandaru
Quality Inspection of Multiple Product Variants using Modular Neural Networks
15:00
Mehran Ghorbani Tajani
Amos Ng
Sunith Bandaru
Manufacturing knowledge management using a virtual factory based ontology implemented in a graph database
15:30
Dinesh Chemmanthitta Gopinath
Magnus Holm
Sunith Bandaru
Using Augmented Reality Technology to Improve Health and Safety for workers in Human Robot
Collaboration Environment: A Literature Review
16:00
Manojrevanth Muniraju
Wei Wang
Amos Ng
Simulation-based Automobile Engine Crankshaft Machining Process Improvement
---
Initiativtagare till ASSAR är Högskolan i Skövde, IDC West Sweden AB, Science Park Skövde AB, Volvo Car Corporation och Volvokoncernen.